Feast of Tabernacles 2018
Indian Wells, California
September 23 - October 1
---
The Miramonte Resort & Spa
RESORT
Discover Miramonte Resort & Spa, a tranquil four-diamond Palm Springs spa resort with boutique-like style and classic sophistication. Located in Indian Wells, the heart of the valley and nestled at the base of the scenic Santa Rosa Mountains this Palm Springs resort boasts spacious accommodations, impeccable service, an award winning spa, and world-class golf.
Relax and unwind amid 11 acres of Mediterranean-village inspired gardens and romantic architecture. You'll be swept away by the pure serenity, and picturesque setting of this Indian Wells resort. Resort features include 215 well-appointed guestrooms, suites and villas, two on-site dining locations, three pools - including Piedmont Pool an adult only pool, and an award winning spa.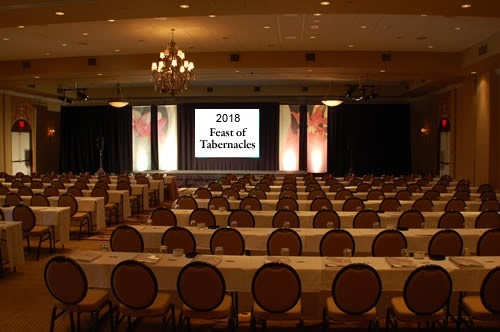 AMENITIES
Upgraded Suites, including Villas and a Presidential Suite
2 restaurants – Grove Artisan Kitchen and Vineyard Lounge
Award-winning spa facilities – The Well Spa
Concierge services available
3 resort pools with food and beverage service – Miramonte Pool, Piedmont Pool (adults only) and Aqua Well Pool (private spa pool available with spa treatment or purchase of a day pass).
24-hour fitness center – Yoga and Wellness Walk available
Pet-friendly accommodations available
Access to golf and tennis through Concierge
In-room dining
LOCATION
The
location
is about 2 hours from Pasadena, 3 ½ hours from Phoenix and a day trip from Colorado and Northern California. We were looking for a location to make it accessible for as many as possible. Great shopping and restaurants within 5 miles of the hotel in every price range. Yes, Trader Joe's is almost walking distance from the hotel. However, the hotel runs a free shuttle to any place within 5 mile radius, so for most things, you will not need to move your car.
RESORT FEE & PARKING
The resort fee is usually $30 per night, but has been reduced for us to $5 per night. This fee includes:
Daily internet access throughout the resort
Wellness classes offered through the WELL SPA
Access to Fitness Center 24 hours a day
Newspaper and in-room coffee service
Free self parking. (Valet is $15 per night.)
$25 Spa Card per reservation
Free use of bicycles
Shuttle within 5 miles radius of hotel
ACCOMMODATIONS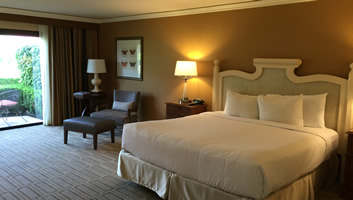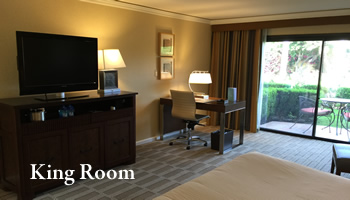 There are 4 room types. All rooms are spacious with bathroom AND an area outside the bath with sink, etc. See our website.
King – $139 plus $5 resort fee and taxes.
2 Queens – $139 plus resort fee and taxes.
Dulce Suite – $169. plus $5 resort fee and taxes. This suite has a divider between the sitting room and bed room and is considerably larger.
Handy cap. This room has a shower that allows a wheel chair access to roll in plus other items.
— There is a limited number, so if you need this type, you will need to make reservation ASAP!
RESERVATIONS
If you want to make reservations by phone:
For reservations, call
800-237-2926
.
It is important that you identify yourself as part of Guardian Ministries
Provide your name, home or business address, email address and phone #
Requested bed type (king, queen/queen or suites)
Check-in and check-out dates
Preference for non-smoking room
Any requests for special room arrangements must be made at the time of the call. When you make your reservation you will be asked to pay for the 1st night. If you find later that you cannot attend, then that would be refunded as long as you cancel with minimum of 7 days.
The operator can answer any of your questions.
We have an exciting, inspiring and motivating program for you. The speakers this year are already working on their sermons, the seminars will be on various subjects, the children's program will be outstanding as always and there will be many activities such as hiking, biking, enjoying fellowshipping around fire pits, pool and many other beautiful areas. There is a 24 hour a day open fitness center.
We extend a sincere and cordial invitation to you and we will work diligently to make this a great and memorable Feast of Tabernacles for you and all our brethren. If you have questions, please email me at:
mollyantion@earthlink.net
-